Make Your Shoes Comfortable To Wear With These Easy Way
We love traveling and walking around the city while wearing our favorite pair of shoes. Sometimes we experience blisters after many hours of walking and running some errands. Maybe it is because our feet are not comfortable in wearing a particular shoe. You might feel uncomfortable when wearing the wrong pair of footwear, plus suffer from cuts or foot injury. According to some experts, it would be best to check out these sneaky yet working ways to make your shoes more comfortable. You can count on these tips to avoid any problem regarding your footwear. Check them out and see what helps you.
Break-In Your Shoes
According to Dr. Jacqueline Sutera, wearing your new shoes when traveling is not satisfactory. Some podiatrists agreed with her and recommended wearing new shoes at home within an hour or more. It would be best to break in your newly-purchased kicks in your house before you take them outside to avoid cuts and blisters. You can observe tight spots and work on them through stretching before your travel plan happens. Also, check out some possible problems you encounter in wearing your footwear before your vacation rolls around.
Always Be Prepared
It is best to consider packing smart and prepare the things you need, depending on your plans. Sometimes your destination needs a specific outfit or footwear, like when you feel cold. You could count on comfortable, protective, and supportive shoes or footwear if you planned to walk or hike. Also, consider getting water-resistant shoes if you think you will soak your feet in the water.

Choose Footwear With Laces Or Straps
Sometimes we want to wear slip-on footwear when traveling because we can take them on and off easily. But in some cases, it cannot protect you from injuries like cuts. It would be best to pick shoes that can firmly attach to your feet, like sandals with laces and straps. Choose the one that has a thick sole and straps that can hold your feet in one place.
Put On Socks That Wick Moisture
Some of the places you planned to visit are hot and will cause moisture on your feet. It would be best to avoid wearing socks made from cotton and wool when hiking in such places. They will absorb sweat and make your feet feel wet. Also, do not wear socks that are too thick because they can cause rubbing. You can count on silver socks because they can kill bacteria and fungi.
Avoid Wearing Same Shoes The Whole Day
You think that packing more than one shoe will use a lot of space in your bag or luggage, but you should reconsider. It would be best to have at least one extra footwear to rely on when you are already feeling excruciating foot pain in wearing the same shoes the whole day. Some experts said that wearing one footwear all day can cause injury if it is inappropriate for standing and walking for an extended time.
Explore the wonders of Swarovski Collections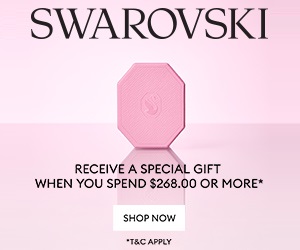 Speaking of Trendy Earring Styles For Women, Swarovski's creative process is uniquely prolific and focusing on trend curation, design, and meaningful branding. Every piece tells a story and embodies over 125 years of mastered craftsmanship. The continuous evolution of material and technique makes Swarovski the leader of crystal cut creations. Swarovski's passion for innovation and design has made it the world's premier jewelry and accessory brand. It maintains the tradition of delivering extraordinary everyday style to women around the world. Visit Swarovski.com for the latest collection and seasonal discount available only on their store page.
Tags :
Swarovski